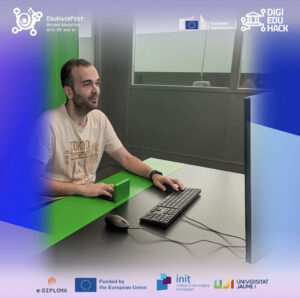 In the dynamic world of education, staying at the forefront of technological advancements is essential. It's all about bridging the gap between emerging technology and education, and that's exactly what EduHackFest is here to accomplish.
Time is running out, and today marks the final day to secure your spot in this thrilling Hackathon. Join us on November 11-12, 2023, at the prestigious Universitat Jaume I for a remarkable event that promises to be a game-changer in the realm of education. But that's not all – participants also have the exciting opportunity to win fantastic tech prizes!
Unlock Innovation in Education
EduHackFest is where innovation in education takes center stage. It's a fusion of cutting-edge technology and the world of learning, and you won't want to miss it. Whether you're an educator, student, tech enthusiast, or simply someone who cares about the future of education, this event is tailor-made for you.
How to Register
Securing your spot is simple and quick. Just visit our registration page here and sign up for the event. Don't delay; the clock is ticking! With your registration, you gain access to a world of innovation and the chance to be part of something groundbreaking.
What's in Store?
EduHackFest promises two days packed with knowledge sharing, collaboration, and, of course, the chance to explore and experiment with the latest educational technologies. This isn't just any Hackathon; it's a celebration of learning, innovation, and the future.
Mark Your Calendars
November 11-12, 2023, are the dates to remember. Join us at the Universitat Jaume I, where education and technology come together for an extraordinary experience. It's not just about learning; it's about shaping the future of education.
Tech Prizes Await
We're not just offering an unforgettable experience; we're also giving you the chance to win some incredible tech prizes. As you delve into the world of e-learning and technology, you might find yourself walking away with a valuable addition to your tech collection.
Act Now!
Don't wait any longer. The opportunity to be a part of EduHackFest is slipping away. Register now to secure your spot in this exciting event. For more information and updates, visit the event's website here. It's time to embrace the future of education at EduHackFest 2023!