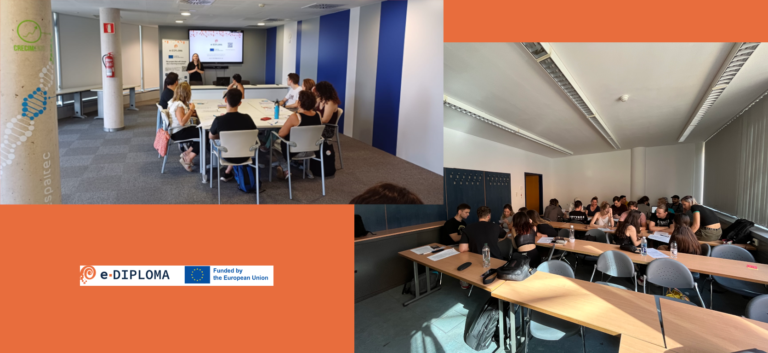 Exciting Updates from the e-DIPLOMA Project: Co-Design Events Ignite Innovation!
The e-DIPLOMA project continues to gather momentum as we recently hosted two dynamic co-design events, one in UJI (Spain) and another in BME (Hungria) that brought together a diverse group of stakeholders, including students, parents, developers, and educators.
These sessions were instrumental in shaping the future of our e-learning platform, set to harness the power of Virtual Reality (VR), Augmented Reality (AR), and Artificial Intelligence (AI).
The one held in Budapest (BME) assembled a cohort of 40 students. Together, they delved into a captivating workshop aimed at unearthing the key features of games. Through hands-on activities and spirited discussions, we decoded the elements that make games engaging and immersive. This valuable insight will be seamlessly integrated into our e-learning modules, enhancing the overall learning experience.
In our second event in Castellón (UJI), we facilitated a thought-provoking discussion group that revolved around the topic of e-learning and the boundless possibilities of emerging technologies. The participants, representing various backgrounds involved in the e-DIPLOMA project, engaged in vibrant conversations about the role of VR, AR, and AI in reshaping the educational landscape. Their collective wisdom will serve as our guiding light as we steer towards a future where education transcends boundaries.
As we continue to refine our vision for the new e-learning platform, we are profoundly grateful for the enthusiasm and expertise that our diverse community of stakeholders has brought to the table. Together, we're forging a path toward a future where immersive and intelligent learning experiences are the norm. Stay tuned for more updates as we progress this exciting project!