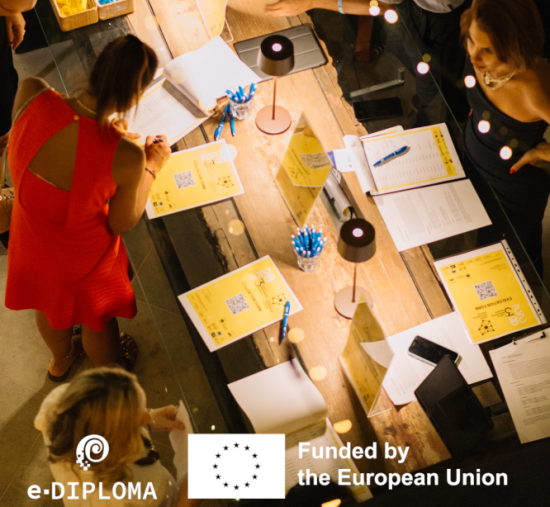 The e-Diploma project has left an indelible mark on the prestigious 3rd Cyprus Networking Festival of 2023. This visionary endeavor, dedicated to elevating the realm of e-learning to new heights, took center stage with its groundbreaking fusion of Augmented Reality/Virtual Reality, Artificial Intelligence (Machine Learning/Deep Learning), Interactive Technologies, chatbots, and gamification, all meticulously integrated into a cutting-edge e-learning platform.
Its debut at the festival garnered widespread acclaim and captivated the attention of both industry titans and festival-goers alike.
The 3rd Cyprus Networking Festival of 2023 unfolded triumphantly on August 31st, 2023, at the charming Vintage Wine Bar & Bistro in the heart of Nicosia, boasting an impressive turnout of over 250 enthusiastic participants. This exceptional event was masterfully organized by the Center for Social Innovation-Cyprus (CSI) and CyprusInno, operating under the auspices of the Deputy Minister of Research, Innovation, and Digital Policy.
Driven by the mission to forge a year-round network of entrepreneurs, investors, startups, innovators, civil society influencers, and professionals spanning all age groups and regions of the island, the festival succeeded in creating an environment ripe for informal networking. Its triumph lay in nurturing strategic alliances and fostering meaningful connections among this diverse spectrum of individuals.
At its core, the festival was anchored in the noble pursuit of advancing the qualitative and sustainable development of Cypriot society and its cherished citizens. This mission held the promise of positively impacting the economy and the broader market through collaborative efforts with relevant organizations. In our ever-evolving global landscape, such collaborative endeavors among organizations carry the potential for manifold benefits, seamlessly aligning the promotion of products and services with the pressing needs and expectations of our valued citizens.
© 2022 e-DIPLOMA. All rights reserved. Funded by the European Union. Views and opinions expressed are however those of the author(s) only and do not necessarily reflect those of the European Union or European Research Executive Agency (REA). Neither the European Union nor the European Research Executive Agency (REA) can be held responsible for them.