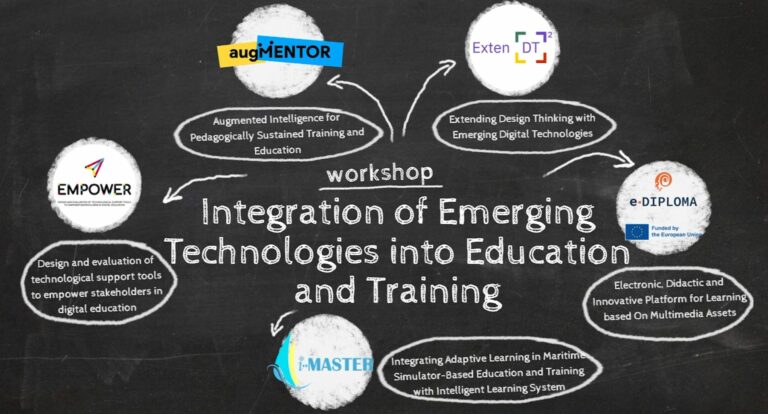 On July 12th and framed within the #MIS4TEL23 International Conference, we had the privilege of hosting a cluster workshop focused on the "Integration of Emerging Technologies into Education and Training" in the beautiful city of Guimarães, Portugal.
This workshop was a collaborative effort, organized by the cluster of our sister projects, which brought together five remarkable #HorizonEU funded initiatives, each dedicated to advancing various aspects of digital education and training:
🔹 Augmented Intelligence for Pedagogically Sustained Training and Education (augMENTOR project)
🔹 Design and evaluation of technological support tools to empower stakeholders in digital education (Empower EU project)
🔹 Extending Design Thinking with Emerging Digital Technologies (ExtenD.T.2.)
🔹Electronic, Didactic and Innovative Platform for Learning based On Multimedia Assets (e-DIPLOMA Project)
🔹Integrating Adaptive Learning in Maritime Simulator-Based Education and Training with Intelligent Learning System (i-MASTER Horizon Europe)
Esteemed participants, including project officers from the European Research Executive Agency (REA), researchers, and coordinators representing the five EU projects, joined us in Guimarães to collectively foster collaboration and drive progress in shaping the future of education and training in the dynamic digital landscape.
Post-Event Reflection:
The #MIS4TEL International Conference was an enlightening experience for all involved, and our workshop organized alongside our sister projects was particularly enriching.
The rise of new and emerging technologies, exemplified by the European Commission's strategy on Web 4.0 & #VirtualWorldsEU, has made our mission as researchers even more critical – to ensure an open, reliable, and inclusive digital environment.
During the workshop, we had the opportunity to present the progress made within our project's framework and engage in insightful discussions with other professionals and researchers. Key topics, including #VirtualReality, #AugmentedReality, #elearning, #ethics, #dataprotection, and #ArtificialIntelligence, were explored and analyzed in the context of education and training.
We extend special thanks to the dedicated teams from Universitat Jaume I, Budapest University of Technology and Economics, and Tallinn University, who traveled from afar to attend the conference and contribute to the dialogue. Our colleagues, Kai Pata and Águeda Gómez Cambronero, delivered thought-provoking interventions that added significant value to the event.
Together, we are catalyzing positive change in the elearning ecosystem. If you share our passion for advancing education and training through the integration of cutting-edge technologies, we invite you to join us on this transformative journey. Together, let's shape the future of digital education and training, making it accessible and beneficial for all. Are you on board?
© 2022 e-DIPLOMA. All rights reserved. Funded by the European Union. Views and opinions expressed are however those of the author(s) only and do not necessarily reflect those of the European Union or European Research Executive Agency (REA). Neither the European Union nor the European Research Executive Agency (REA) can be held responsible for them.