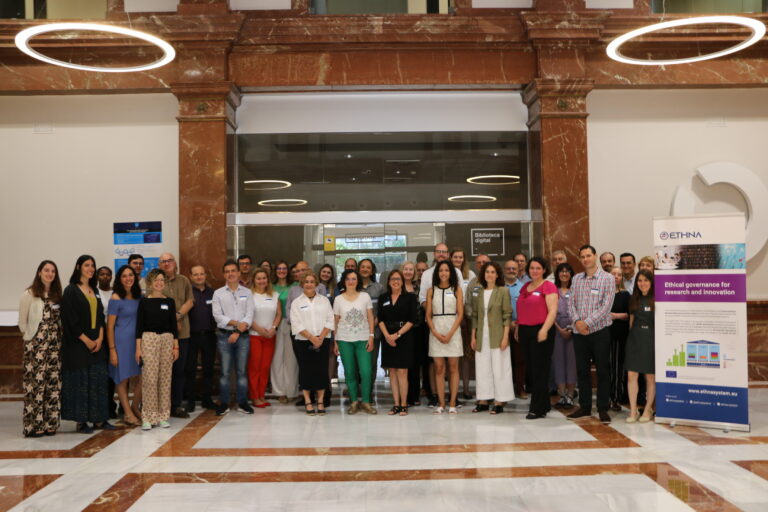 The ETHNA System Project is reaching the culmination of its efforts and is preparing for the highly anticipated Final Conference. This event will showcase the results of the Research and Innovation Governance Ethical System developed over the past three and a half years. The conference aims to promote responsible and open science while inviting sister projects, experts, and entities interested in ethical governance for research and innovation (RRI) across various sectors. Let's explore the key details and highlights of this event.
Conference Details:
Date: 15th and 16th June 2023 Venue: Menador Cultural Space, 4 Plaça de l'Hort dels Corders, Castelló de la Plana, Spain
Day 1 Highlights (15th June 2023):
The conference commences with an opening note from Margarita Vergara, Deputy Vicerector of Research at Universitat Jaume I (UJI), Spain. The program features several informative sessions focused on promoting responsible research and innovation.
Elsa González Esteban, the ETHNA System Project Coordinator, will discuss the ETHNA system and strategies for encouraging RRI in the face of academic pressure.
Lisa Häberlein and Philipp Hövel from the European Network of Research Ethics Committees (EUREC), Germany, will emphasize the importance and necessity of stakeholder engagement in research ethics.
A roundtable discussion will showcase experiences applying the ETHNA system and research ethics tools across four different contexts, featuring experts from organizations such as ARC Fund (Bulgaria), Uninova (Portugal), HARNO (Estonia), and UJI (Spain).
Participants will have the opportunity to engage with poster authors during the poster walk session, encouraging knowledge exchange and discussions.
Day 2 Highlights (16th June 2023):
The second day of the conference focuses on future challenges in responsible research and innovation, policy initiatives, and good practice codes to enhance research integrity.
Santiago García Campá (UJI) will discuss gender equality, Ana Marušić (University of Split School of Medicine, Croatia) will delve into research integrity, and Eva Méndez (Carlos III University, Spain) will shed light on open access. The session will be moderated by Xavier Eekhout Chicharro (FECYT, Spain).
Isidoros Karatzas, Head of Sector for Ethics and Research Integrity at the European Commission, will present recent policies for promoting responsible research, with Martha Rodríguez Coronel (Fundación ÉTNOR, Spain) as the presenter.
Alberto Pastor Campos (Miguel Hernández University, Spain) and Krista Varantola (Council of Finnish Academies, Finland) will discuss the significance of good practice codes as tools to enhance research integrity. Juan Bertolín (Espaitec, Spain) will moderate the session.
The conference will conclude with closing remarks from Elsa González Esteban (ETHNA System, UJI).
The ETHNA System Project's Final Conference promises to be an informative and engaging platform for sharing the outcomes of their research and innovation governance ethical system. By addressing future challenges and emphasizing responsible and open science, the conference aims to shape ethical governance in research and innovation. Attendees will have ample opportunities to exchange ideas, network with experts, and explore innovative solutions for a more responsible and inclusive scientific community.
© 2022 e-DIPLOMA. All rights reserved. Funded by the European Union. Views and opinions expressed are however those of the author(s) only and do not necessarily reflect those of the European Union or European Research Executive Agency (REA). Neither the European Union nor the European Research Executive Agency (REA) can be held responsible for them.