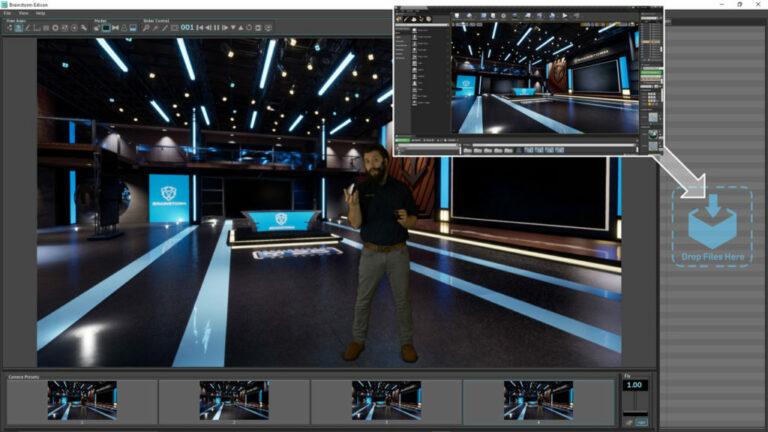 The prestigious Bett UK event held at ExCeL London from March 29th to 31st, 2023, provided an exciting platform for showcasing the latest developments in education technology. Among the notable innovations presented were Edison 5.1 and eDesk, offering new possibilities for immersive presentations and videos.
Edison 5.1 demonstrated its progress, taking advantage of the newly introduced EdisonGO app. This app utilizes iPhones or iPads to provide video+tracking information to enhance the capabilities of Edison PRO. This integration opens up exciting opportunities for educators and learners alike.
Accompanying Edison 5.1, eDesk made its debut as a comprehensive solution for immersive presentations and videos. This turn-key package includes essential components like a green screen backdrop, camera, lights, and other necessary accessories. With eDesk, creating and managing engaging live or online presentations becomes straightforward, allowing for the incorporation of live talents in virtual 3D environments.
Importantly, Edison plays a vital role in two European R&D projects, where Brainstorm serves as a technological partner and leader. The e-DIPLOMA Project aims to introduce disruptive technologies to education, with Edison as a selected technology for implementation. Additionally, in the CloudClass project, Edison's capabilities are leveraged to enhance the online teaching platform designed for higher education.
The unveiling of Edison 5.1 and eDesk at Bett UK 2023 signifies significant progress in education technology. These innovations provide educators with tools to enhance teaching and engage learners effectively. By embracing these advancements, we can shape a future where immersive and interactive educational experiences become more accessible and impactful.
For more information on these exciting developments, please visit: https://lnkd.in/d_CBS7tJ
© 2022 e-DIPLOMA. All rights reserved. Funded by the European Union. Views and opinions expressed are however those of the author(s) only and do not necessarily reflect those of the European Union or European Research Executive Agency (REA). Neither the European Union nor the European Research Executive Agency (REA) can be held responsible for them.