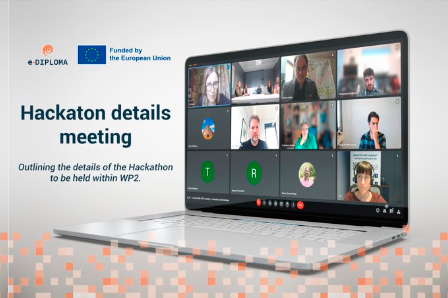 During this period, several consortium meetings have been organized to prepare for the upcoming actions of the e-DIPLOMA project. As the technical phase of the project begins, numerous decisions need to be made to ensure the optimal utilization of innovative technologies in education. These decisions include determining the platform architecture, selecting software, and choosing appropriate devices, among other considerations.
To facilitate the co-design and co-creation process, three hackathons are scheduled to take place in Castellon, Delft, and Budapest. These hackathons serve as collaborative events where users can actively participate and provide their opinions and feedback on the use of innovative technologies in learning through an e-learning platform. By engaging users in these hackathons, the project aims to gather valuable insights and ensure that the platform meets their needs and expectations.
The hackathons will provide a unique opportunity for participants to directly contribute to the development and improvement of e-DIPLOMA. Through interactive workshops and hands-on activities, users will have the chance to explore the functionalities of the platform, provide feedback on user experience, suggest enhancements, and share their perspectives on the integration of emerging technologies in education.
By actively involving users in the development process, the e-DIPLOMA project aims to create an e-learning platform that not only leverages innovative technologies but also addresses the specific requirements and preferences of its users. The ultimate goal is to provide an engaging and effective learning experience that empowers learners and facilitates their educational journey.
© 2022 e-DIPLOMA. All rights reserved. Funded by the European Union. Views and opinions expressed are however those of the author(s) only and do not necessarily reflect those of the European Union or European Research Executive Agency (REA). Neither the European Union nor the European Research Executive Agency (REA) can be held responsible for them.