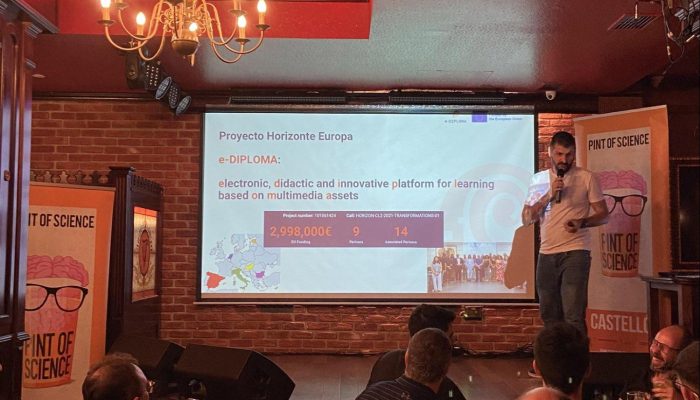 Nacho Miralles, an innovation agent at INIT, took part in the 2023 edition of the Pint of Science event, where he presented the e-DIPLOMA project. This participation in the 2023 Pint of Science Festival demonstrates INIT's dedication to promoting educational innovation and raising awareness about the transformative potential of the e-DIPLOMA project. By emphasizing collaboration, cutting-edge technology, and immersive experiences, e-DIPLOMA aims to revolutionize the way we learn.
Pint of Science (https://pintofscience.com) is a worldwide event that turns bars in our cities into impromptu laboratories, providing regular customers and science enthusiasts with insights into the latest scientific breakthroughs in Spain. It serves as a platform for researchers to share their work and engage with the public, fostering a greater understanding and appreciation for science.
© 2022 e-DIPLOMA. All rights reserved. Funded by the European Union. Views and opinions expressed are however those of the author(s) only and do not necessarily reflect those of the European Union or European Research Executive Agency (REA). Neither the European Union nor the European Research Executive Agency (REA) can be held responsible for them.