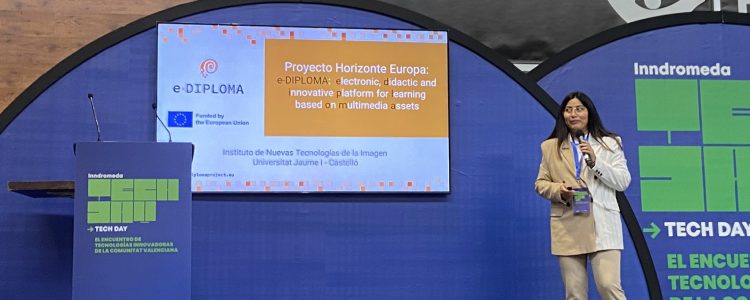 On December 15, 2022, took place in Valencia the Inndromeda Tech Day, a meeting of disruptive technologies that brought together more than 400 professionals related to innovative technologies.
The main objective of this space has been to highlight the latest innovations developed by organizations and companies, as well as their application and implementation in the productive fabric to improve their productivity and the quality of their products and services.
During this meeting, demonstrators of collaborative robots, the Hyperloop vehicle or plant-based solutions, among other innovations, have been presented.
Our team had the opportunity to present the e-DIPLOMA project at this meeting of innovative technologies. In addition, Michelle Andrade, Project Officer of e-DIPLOMA communicated the project and its innovation for the e-learning ecosystem to all the attendees at the Indromeda Tech day Demo Room.
© 2022 e-DIPLOMA. All rights reserved. Funded by the European Union. Views and opinions expressed are however those of the author(s) only and do not necessarily reflect those of the European Union or European Research Executive Agency (REA). Neither the European Union nor the European Research Executive Agency (REA) can be held responsible for them.