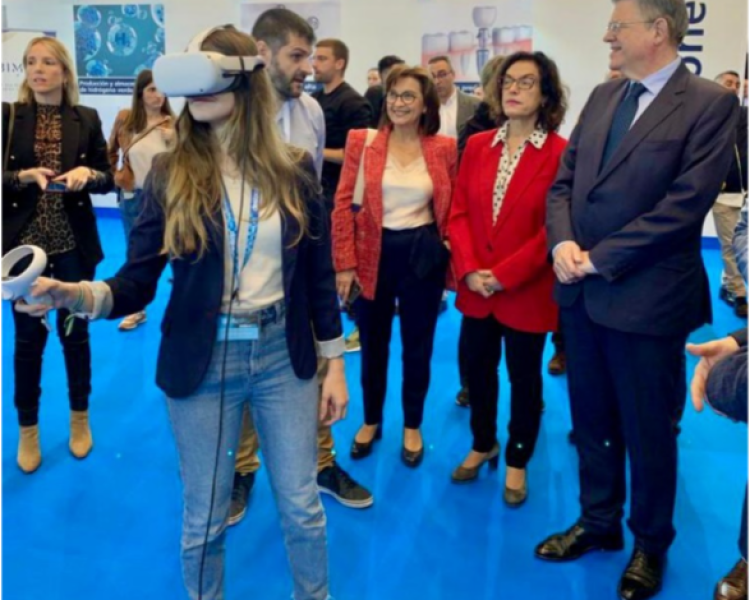 In the photo we can see Nacho Miralles innovation agent of INIT and Ximo Puig president of the Generalitat Valenciana
Destaca is the first scientific and technological knowledge transfer fair in the Comunitat Valenciana. This meeting was created with the aim of activating the economic fabric via innovation and projecting it into the future, investing in sustainability and promoting the knowledge-based society.

The e-DIPLOMA project, along with stands from about thirty companies, institutions, and research centres, had the opportunity to participate in its fifth edition.

Destaca Fair had a notable scientific programme, structured in four tables in which the main points of debate of the current economy and society were discussed: digital transformation, circular economy, energy resources and the present and future reality of the ceramics cluster with fifty speakers and
participants in the different round tables.

The INIT team had the chance to reach various policy makers as one of its dissemination strategies (such as Ximo Puig, President of the Valencian Government). The innovative virtual-reality technology used in our project.

The objective of this environment is to show the possibilities offered by virtual and augmented reality technology for the presentation of business products, it will change the e-learning ecosystem.
© 2022 e-DIPLOMA. All rights reserved. Funded by the European Union. Views and opinions expressed are however those of the author(s) only and do not necessarily reflect those of the European Union or European Research Executive Agency (REA). Neither the European Union nor the European Research Executive Agency (REA) can be held responsible for them.